MythBusters: Don't believe these rumors about a Level 2 EV charging station!
2 Dec 2022
•
5 mins to read
Level up your knowledge and put 2 and 2 together about myths surrounding an EV charging station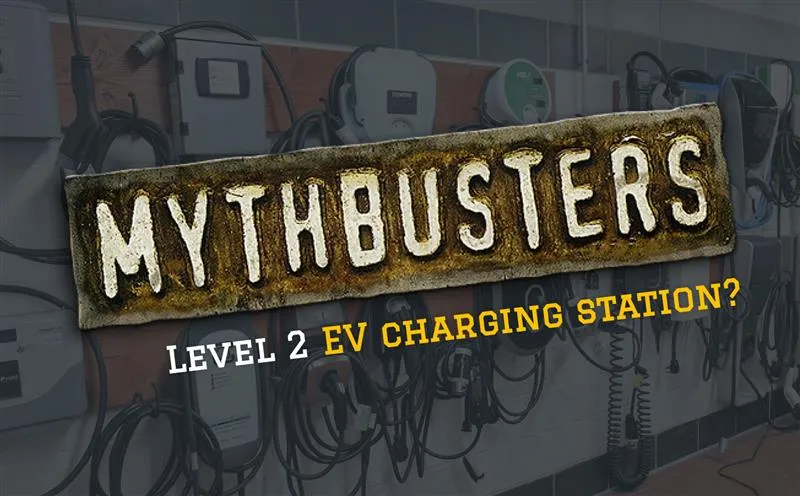 Summary:
Informational overload affects the public's opinions about Level 2 charging stations, and many hesitate to buy EVs because of several established myths surrounding its phenomenon. Society believes charging stations to be few and expensive, their charging speed low and time-consuming, and their environmental impact too negative to overlook. Our Energy5 experts have found that purchasing and installing EV chargers is not expensive. Technology has significantly reduced the charging time and the stations' energy efficiency. These facts prove that Level 2 charging stations have become popular for businesses and bring many benefits to their owners.
Energy5 provides end-to-end EV charging solutions for businesses
From incentives to funding, permits, installation and software, Energy5 is your trusted EVC partner.
Request a callback
---
Who doesn't like having the latest iPhone, Nike sneakers, or EV? Electric cars are becoming the new "must-have" for Americans. The third quarter of 2022 has shown mind-blowing statistics. Electric car sales have soared to 60%, with more than 200,000 new registrations nationwide. Nevertheless, the EV culture has a long way to go to become affordable. The rumors surrounding EVs and the range anxiety about finding charging stations don't help the situation.
Everyone is eager to share their opinions on this subject. "The Level 1 charger is slow. The Level 2 EV charging station is for businesses only. Level 3 fast chargers are expensive. There are not enough chargers on the roads. Getting a full charge takes 8-10 hours. Public charging stations harm our environment."
Stop this nonsense! Let's sort through the most frequent misbeliefs and get to the truth. Our experts at Energy5 will debunk these myths for you.
Myth #1. Charging with a Level 2 charging station takes too long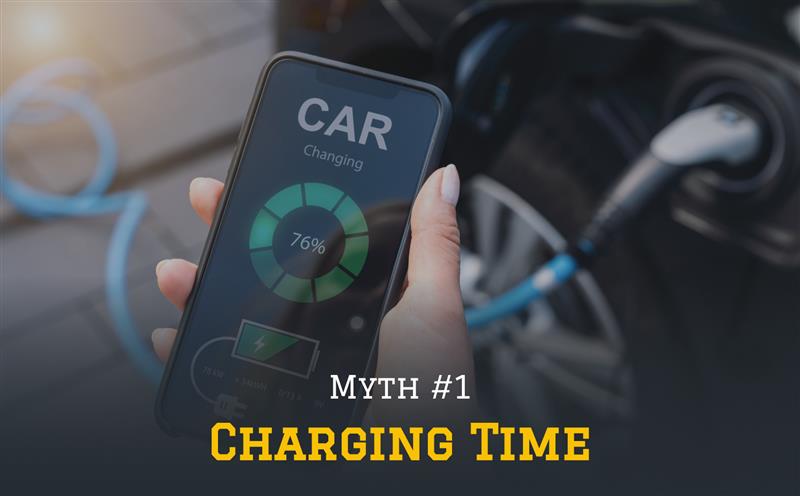 If you were in 2012, getting a full charge would take a long time. Good for us that we live in 2022 and EV charging stations have better technologies. Experts have improved the levels of power output for the Level 2 charging station, the EV's battery performance, the number of fast chargers on the roads, and many other factors that influence the charging time. An average electric car needs 2-6 hours for a full charge with a Level 2 charger that delivers 22 kW. But let's be honest. Who goes to a public charger with 0% battery? The odds are you will only need to replenish the batteries with an extra 50%, which cuts your waiting time at a public charging station in half.
The average power output of a public charger
Most people use Level 1 home chargers for their electric cars, which provide from 1.3 kW to 7.5 kW and 3-6 miles per hour. They can install a Level 2 charging station at home for a quicker charge - a good option unless you must travel or find yourself stuck with a 15%-25% battery. The most popular public chargers, Level 2 chargers, deliver between 22 kW to 43 kW and 30-90 miles per hour. If you want a speedy experience, a Level 3 charger will add up to 20 miles per minute. Cheers to all the engineers out there.
The average time to charge an EV with a Level 2 charging station
The EV charging time depends on 2 major factors: the car's battery capacity and the station's power output. Take a calculator and divide the car battery's capacity – kWh, by its charging speed – kW. The final result can vary if adding other conditions, such as the current battery status, the first and the last 20% taking longer to charge, etc., but you can get an estimation. A level 2 charging station that provides 22 kW will charge a Kia Niro in 2 hours 55 minutes, a Hyundai Ioniq in 1 hour 50 minutes, a Tesla Model 3 in 2 hours 17 minutes, a Toyota RAV4 in 50 minutes, and a Ford Focus in 1 hour 32 minutes.
Myth #2. Level 2 chargers are not a popular choice for public charging station locations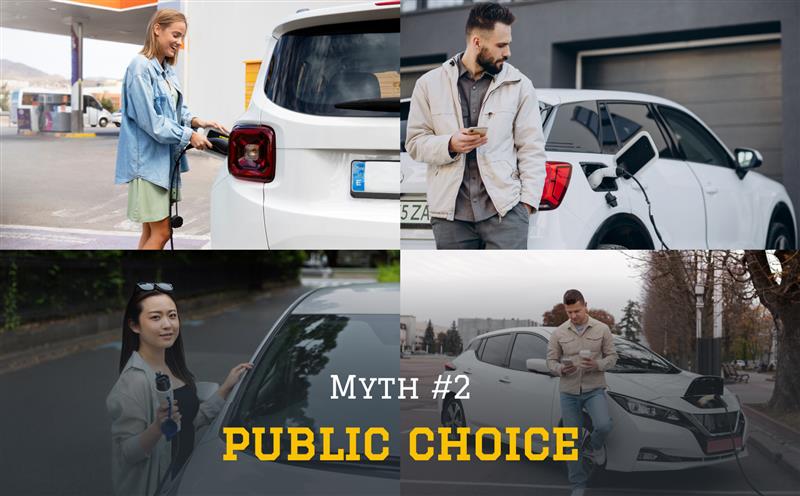 People still think range anxiety is warranted and fear that America doesn't have a solid EV charging infrastructure. Ten years ago, EV drivers could only charge at home or browse through few available public chargers. But today, a Level 2 charging station is a profitable business. You can find chargers at restaurants, hotels, gas stations, shopping malls, supermarkets, fitness centers, etc. Level 2 chargers are a great choice. They are faster than Level 1 chargers and less expensive than Level 3 chargers.
Installing chargers is profitable and offers undeniable advantages for business owners.
Most EV connectors are compatible with a Level 2 charging station
EVs come with several types of connectors for the American (Type 1 connector) and European (Type 2 connector) markets, but most are compatible with Level 2 chargers. The type 1 connector, also known as J1772, works for home Level 1 chargers and public Level 2 EV charging stations. Tesla owners don't have to worry. The standard J1772 adaptor comes together with the car once you purchase it. Many consider Level 2 stations universal for this reason, and that's why they are so popular in public locations.
Of 53,000 public chargers across the USA, 41,000 are Level 2 stations
America has 140,000 charging ports, and most of them are distributed across 41,000 Level 2 charging stations. Finding them is straightforward. You can use apps, Roadtrippers lists, in-built car navigation, and other online maps. Next time someone there says America needs to have more charging stations on the roads, throw these facts at them.
Get started
Myth #3. The Level 2 charging station installation cost is too hig
This topic is the most debatable in public. Purchasing and installing a Level 2 charging station costs between $1,200-$6,000 for a single charger. Yes, on the one hand, it sounds expensive, especially if you think about having 2-3 stations for your business. On the other hand, the US government has established multiple incentives, grants, and tax credits.
Electric car incentives can cover up to 90% of equipment and installation
costs
Electric car incentives differ from state to state. Some of them can cover up to 90% of costs, significantly reducing business expenses for installing Level 2 charging stations. Energy5 helps companies apply for incentives and offers turnkey energy-efficient solutions to lessen the burden of figuring out all the details. Now straight to the fact: the cost of installing a Level 2 EV charging station can drop from $6,000 to $1,200.
You don't spend. You invest.
A Level 2 charger station has a good ROI. Every business owner can set a markup to the charging fees and create a new revenue stream. On average, a public charger can bring a $2,000 profit monthly. Returning to our previous arguments, it is a convenient business deal when you spend $1,200 and get in return $2,000.
Myth #4. Charging at a Level 2 EV charging station is bad for the environment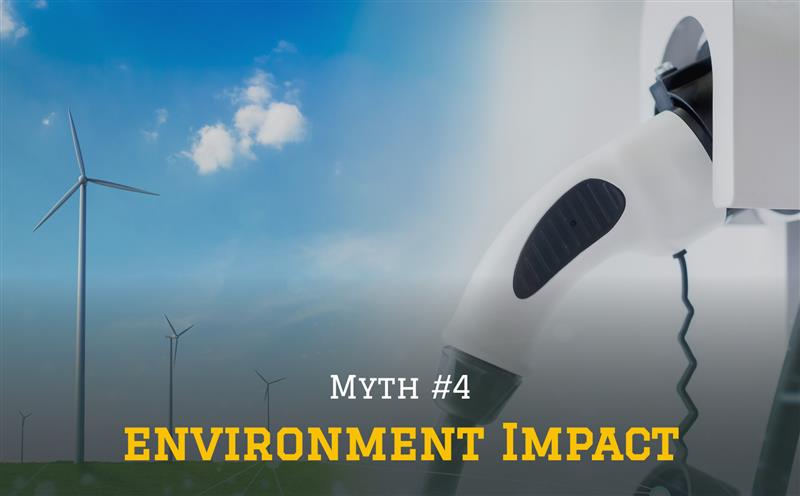 Quick answer - no. Electric car manufacturers can't avoid greenhouse gas (GHG) emissions, most of which are caused by lithium-ion battery production. But once the EV goes on the market, its carbon footprint is way lower than the ICE car's carbon footprint. Experts have studied many EV production and lifespan features to come to these conclusions.
Many states use renewable energy for public EV charging stations
The main misconception about the Level 2 charging station's environmental impact is that America uses coal and gas power plants for electricity. But let's remember that America invests billions in building renewable energy infrastructures across the country.
Some states have already started powering up to 20% of their energy from renewable sources, and business owners have solar panels or wind turbines to provide clean energy for charging stations.
EV manufacturers like Tesla plan to transfer their production to 100% clean energy and use it for powering their superchargers.
The environmental impact of gas stations and EV charging stations
Even considering this issue, ICE cars have higher GHG emissions, and gas stations contribute to a higher carbon footprint. Gas or petrol stations gather toxic fumes from tailpipes, contribute to soil pollution, release fumes, leak, affect air quality, generate extraction pollution, etc. Installing and maintaining an EV charging station doesn't have these effects on our environment.
How to avoid misconceptions about the Level 2 charging station?
We have so much information available that it takes a lot of work to sort through it and get to the truth, especially when something new appears on the market. Misconceptions about Level 2 charging stations are no exception.

How to avoid them? Stay informed! Read and repost on social media only veridic information. Listen to experts. Listen to EV and electric car charger manufacturers. Energy5 will help you highlight only reliable and valuable information from the "informational overload" you face daily. Contact us today and get all the answers you need. Our experts are here for you and your business.
Contact our experts