White House approved the first round of funding for EV charging infrastructure
2 Dec 2022
•
4 mins to read
Will 50 American states be ready to distribute $1.5 billion for building electric charging stations?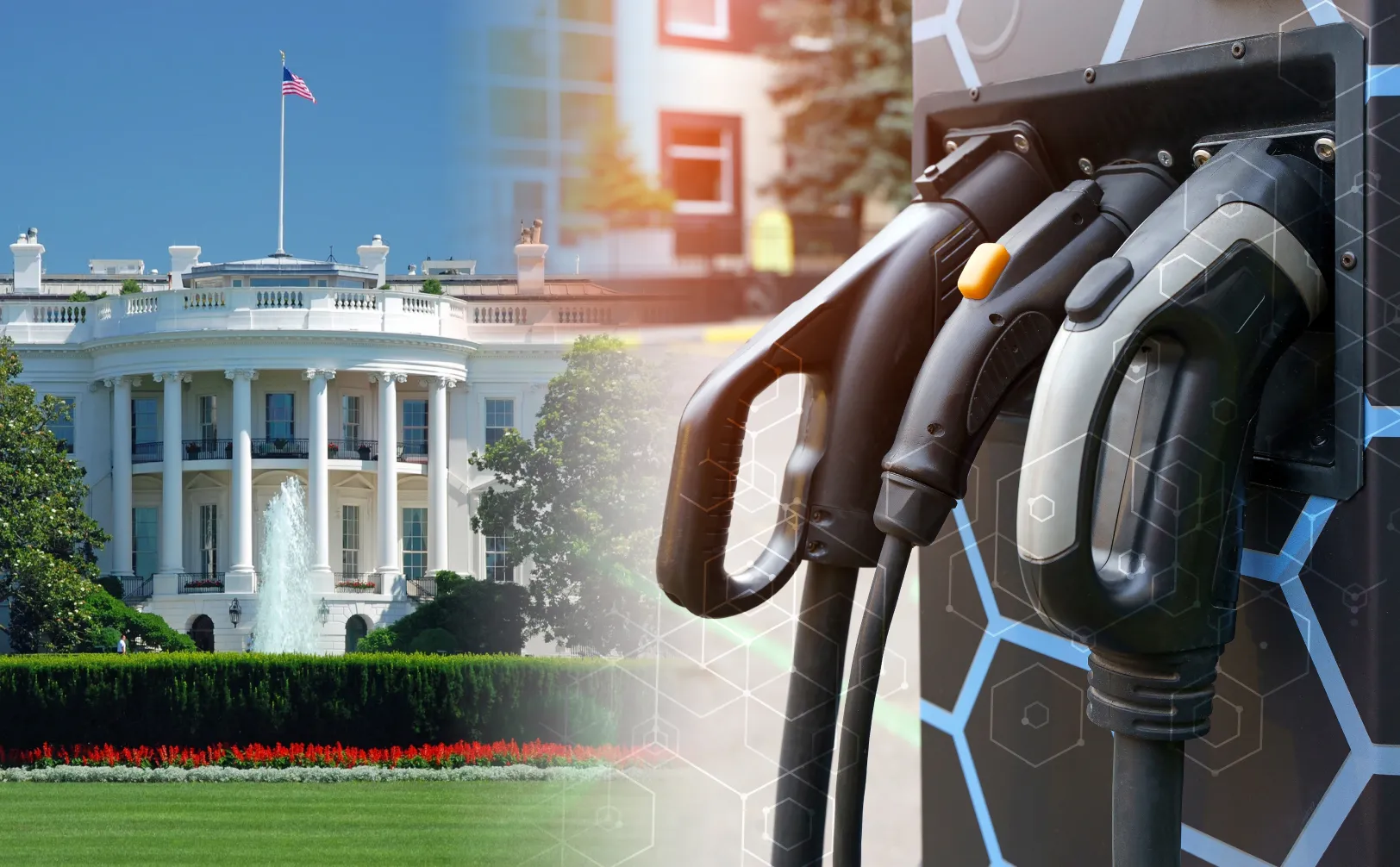 Summary:
White House approved the first round of funding for EV charging infrastructure and distributed $1.5 billion;
One of the targets set by the White House is to have 50% of all new cars electric by 2030;
These funds will help businesses by providing incentive programs that can cover up to 90% and sometimes 100% of the purchase and installation costs and contribute to the construction of 500,000 public chargers.
Energy5 provides end-to-end EV charging solutions for businesses
From incentives to funding, permits, installation and software, Energy5 is your trusted EVC partner.
Request a callback
---
Mass media and social media continue to repost Joe Biden's words at the North American International Auto Show: "The great American road trip is going to be fully electrified."
We already know about the administration's ambitious plan to build 500,000 electric charging stations across the country, but are we ready and prepared to build an infrastructure of this scale? The project looks achievable, especially after setting specific milestones divided into realistic deadlines. We have the money, resources, and potential to commit to the Net Zero Protocol fully. But if we dive deeper, the picture doesn't look that optimistic.
The roadblocks to developing electric commercial charging stations
One of the targets set by the White House is to have 50% of all new cars electric by 2030. On the one hand, according to the latest statistics, we hit 5% of EVs on the road mark, and people are finally ready to embrace this new era. On the other hand, most refuse to buy an electric car because of range anxiety and the lack of a steady and reliable charging infrastructure.
Our administration tries to persuade people to buy electric vehicles with incentives and tax credits, some of them mounting up to $4,000-$7,500. The only thing left to accelerate EV adoption is building more commercial car charging stations, so EV drivers don't have to deal with range and charge anxiety.
How do we start adding commercial electric charging stations?
Currently, America has approximately 50,000 public electric chargers, but we need 500,000 of them. We don't just need the numbers - we need the power. Most EV charging stations must be Level 2 and DCFC chargers to deliver fast speed and high-density power output.
The good news is that the first round of $1.5 billion was unlocked recently for all states for deploying new chargers along the highways. Now, the state and municipalities have to determine how to divide this money and start building the EV infrastructure our country needs.
Who is responsible for building the EV charging project?
We've compiled a list of daily challenges states, and private entities face to achieve these goals. The first issue is who will be responsible for building the chargers. The governments don't have the workforce and resources to install multiple charging stations alone, so private entities have to play their part in installing commercial charging stations.
For this reason, businesses can benefit from local rebate and incentive programs that can cover up to 90% and sometimes 100% of the purchase and installation costs. But the municipalities have an essential role in facilitating this process. Some cities, such as Columbus, Honolulu, and Atlanta, passed the "EV readiness" ordinance, which mandates all new parking spaces to provide EV charging ports proportionate to the total number of parking spots.
A diversity of spaces need EV charging installations
We have already established that cities and states don't have the necessary number of available public chargers. It means most people charge their electric cars at home, but renters also require easy charging access. We need car chargers in multifamily dwellings, high-density populated locations, rural communities, and over large territories all other the country. We definitely need a lot of EV chargers, and our country works hard to accelerate their construction.
America knows how to develop multiple EV charging solutions
Remember our earlier statement about these goals being achievable for our country? They are true. We have much to figure out and work on, but our scientists and EV charging manufacturers continue to improve charging technologies. We can be proud of creating street-side charging networks (that charge from streetlamps), developing new ideas for charging electric cars on the roads using magnetizable concrete technology, and improving bidirectional charging systems (that can deliver the energy back from electric cars to the grid). Our community contributes with hard work, technology, and innovative ideas to build the EV infrastructure and achieve great goals by 2030-2035.
"The more the community has input on where these chargers go, how they're used, and how they're designed," said Melendez Martineau, the Policy Manager at Plug-in America, "the better they're going to serve the community."
Do we have a long road ahead? Sure we do. Do private and public entities need to collaborate and work on overcoming these issues? Of course, they do. Are we ready to achieve all the project's milestones? We are convinced that we are, and we can. Let's speed up EV adoption and help our country achieve the Net Zero Protocol goals.
Get a free consultation